Today was another small, free adventure. I guess whenever we do something here it is an adventure, because everything is an exciting or very unusual experience. Today we ventured over to the Dean Gallery, which is part of the
National Galleries of Scotland
. There are four buildings that comprise three parts of the National Galleries of Scotland: the
Modern Art Galleries
(Dean Gallery, Modern Art Gallery), the
National Gallery Complex
(on Princes Street), and the
Portrait Gallery
.
So we purchased our day tickets for the bus and rode out to
Princes Street
where we were rumored to be able to catch the 13. There is severe construction going on all over the city right now, because they're installing trams and this caused our bus to not come out onto Princes Street. So we walked up to Charlotte's Square (a block North from Princes Street) and found the 13 Bus Stop.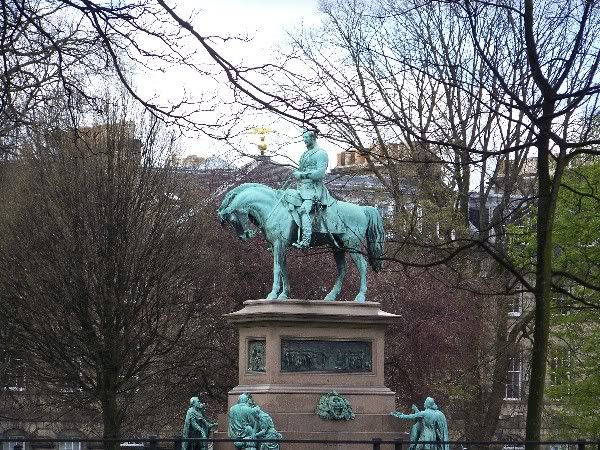 It was a very small bus and there were mostly elderly people riding it, which meant watch where you sit or you'll be attacked with a cane, walker, purse, or shopping bags. I've seen all four happen. It was not a very long ride, though, and we were shortly at Belford Road in West Edinburgh. Right across from the bus stop was the large lawn and relatively steep incline leading up to the Dean Gallery. The Dean Gallery "shows works from the Gallery's internationally renowned
Dada
and
Surrealist
collection alongside pieces by
Eduardo Paolozzi
." For those of you who don't yet know, this is where Ray will be interviewing for a job on Thursday. Don't want to jinx it, though, by talking about it too much.
I snapped off a few quick photos of some of the neat things around the outside and then of the front of the building. After that we went inside where photography is indefinitely forbidden.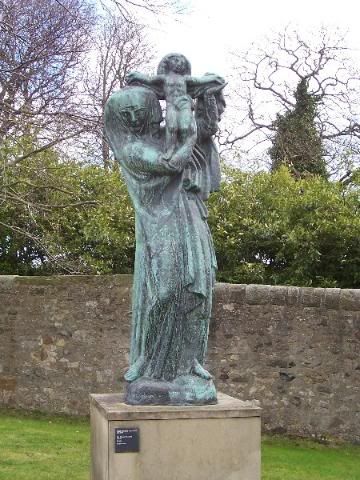 La Vierge d'Alsace [The Virgin of Alsace], Emile-Antoine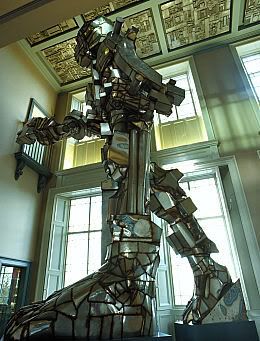 Then we went into the
Surrealist
and
Dadaist
exhibit. It is here that Ray and I had the most fun looking at paintings. I even discovered a new painter I had never heard of but am now completely in love with. This painter is
Yves Tanguy
(1900-1955).
Here are a few of his paintings that we saw firsthand: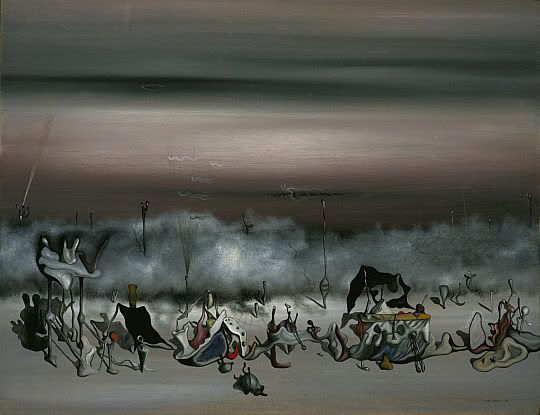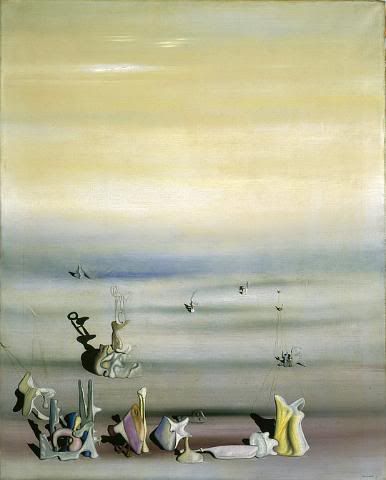 There were also several paintings by
Salvador Dali
, which was really exciting for Ray, since Dali is one of Ray's favorite painters. Also, I've never seen a Dali painting in person, so this was extremely exciting for me. Almost like seeing the Mona Lisa.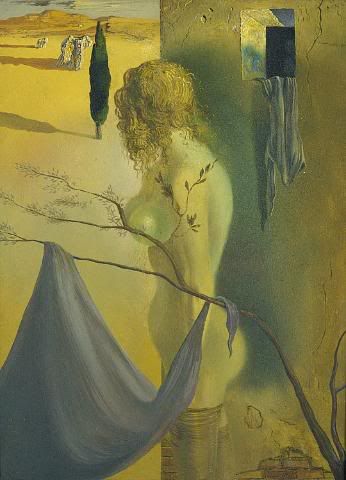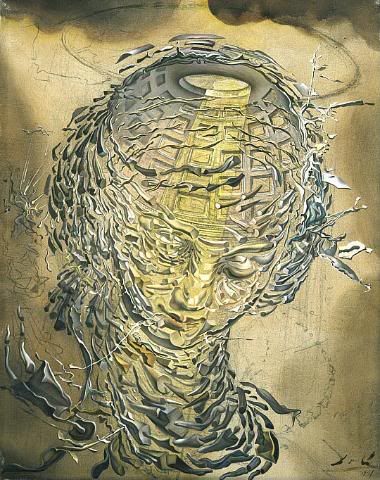 Oiseau [Bird]
(Ray had never seen this one before and was very excited about it.)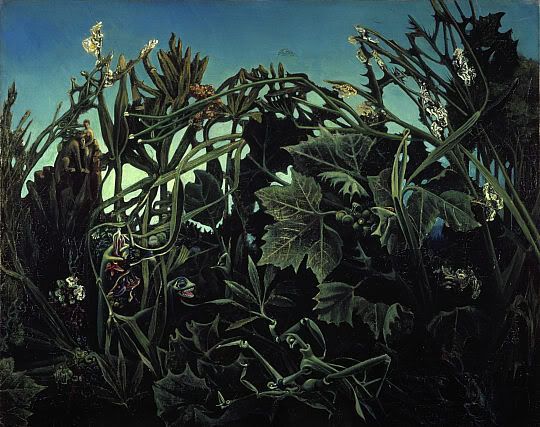 Once we had made it through the last part of the exhibit, I went downstairs to grab a few postcards for my postcard collection and I wanted to get one for Kyle. They have a really cute foldable card with monkeys on it, so I got that for him. Then I got some postcards of the pictures that I really liked. The guy at the counter asked me where I was from and it turns out the girl who went on break was also from Wisconsin! He said he had lived in Toronto for a while. He asked me about the Wayne's World quote about Milwaukee ("it's pronounced "mill-e-wah-que" which is Algonquin for "the good land.") and I totally blanked and felt silly, but it's all good. He was very friendly.
So I hope you enjoyed our little day out and I'm sure there will be more coming. Now back to my school work. Advisor meeting is only a week away!!!